Examinations
Biopsy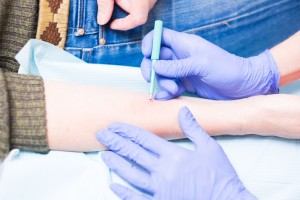 Sometimes a biopsy will need to be taken, for example, to get a more accurate diagnosis. A biopsy is a medical procedure during which the dermatologist removes a small sample of skin tissue (usually 3 mm). This is done in the examination room. Prior to this procedure, you will be given a local anaesthetic.
The skin sample will subsequently be examined under the microscope by a pathologist. Patients usually get the results of the examination after two weeks.
Dermatoscopy
Dermatologists use dermatoscopy to examine skin more closely. A dermatoscope can be used to distinguish between benign and malignant spots, such as suspect moles.
Usually, water or oil is first applied to the skin, after which your physician places the dermatoscope on the skin and exerts some pressure on the skin. The examination does not hurt. Dermatoscopy at 25-fold magnification enables the dermatologist to make a better assessment of a suspect spot.
Allergy tests (patch test)
A patch test is a reliable way for your doctor to determine whether you are allergic to one or more substances in the patch. The test patches contain different substances (separately or mixed) which are known to cause contact dermatitis, an allergic response of the skin. Allergens is the medical term for these substances. You will need to make three appointments for this examination.
During your first appointment, test patches will be applied to your back. Depending on your symptoms, additional patches may be applied. The test patches may be removed two days later. Your doctor may ask you to do this yourself, or have you come back for this. If your skin has reacted to one or more allergens, this reaction will further develop in the next 24-48 hours.
One day after the removal of the test patches your doctor will examine the test area for signs of an allergic reaction. This reaction is usually a red rash with swelling and small blisters. Redness alone does not necessarily mean that you have an allergic reaction.
If it turns out that you are allergic, your doctor will inform you where and how you come into contact with these substances in your everyday surroundings and activities. Your doctor will also advise you how contact with these substances can best be avoided and mention alternatives to products you should avoid .